Although camping is an activity that brings us closer to nature, the intense heat can occasionally make the trip less enjoyable. It's important to stay cool while having outdoor adventures, yet conventional fans can be cumbersome owing to their need for power sources.
Solar-powered camping fans, on the other hand, have changed the camping experience for outdoor enthusiasts thanks to the growing popularity of eco-friendly living.
In this post, we offer the "Top 7 Best Solar Fans For Camping," a collection of eco-friendly and effective cooling tools. With the help of solar energy, these solar-powered fans can provide a cool breeze without affecting the environment. These fans are the perfect companions for your sunny adventures, regardless of whether you are an expert camper or a novice.
Solar Camping Fans
#1 Busypiggy Camping fan with LED lantern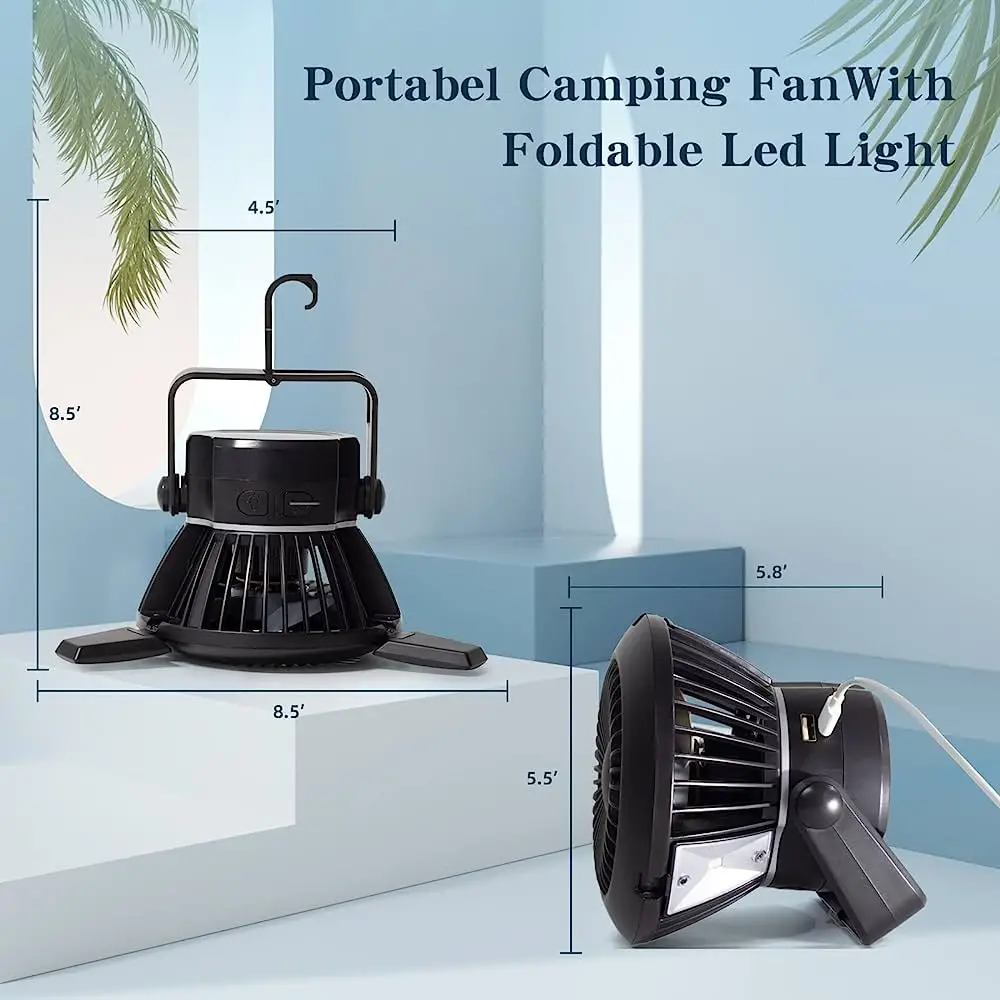 Busypiggy Emergency USB Desk Fan for Home, Office, Tent, Car, Camping Essentials Fan with LED Lantern, Solar Tent Light, Portable Tent Fan with Hanging Hook.
You need to look no further than the Busypiggy Camping Essentials fan if you want the best value for your money. The fan has four wind speed settings, and it also has four movable LED light panels for nighttime visibility. You can meet most of your campsite's needs with one reasonably priced solar camping fan!
Use the hook to suspend it from the RV or tent ceiling, or just lay it on its side anywhere you need it, such as a picnic table or blanket.
Pros
5 to 45 hours of battery life
Four LED light panels are included.
When the energy is running low, the panels flash red as a warning.
Lightweight and portable
Cons
High fan speeds quickly drain the battery.
Easily ruined if not handled properly.
#2 Ansee Camping Solar Fan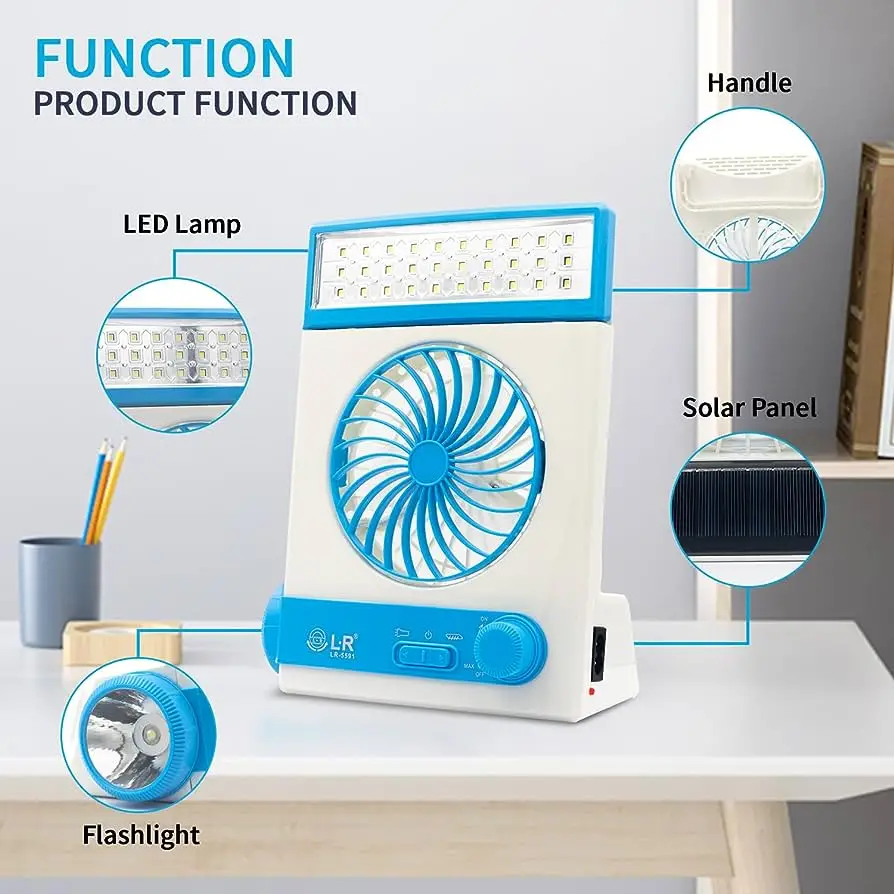 Ansee Solar Fan comes with an Eye-Care LED lamp and a Flashlight Torch. Many supporters of solar camping strive to address several demands at once. Few do it as effectively as the Ansee solar camping fan.
In addition to the brushless motor, which makes the fan's blades spin quietly, the fan also functions as a lantern or spotlight torch thanks to the LED flashlight. With the handle, you may carry it and improve your visibility outside of the campsite as well.
The solar panels that recharge the battery are mounted directly on the rear of the fan as an added convenience, eliminating the need to transport and set up additional solar panels. With this fan, camping is easier in every way!
Pros
Solar panels installed on the fan
Noise reduction from brushless motor
Because of the grip and flashlight, it can also be used as a lamp or spotlight torch.
Inexpensive
Cons
It is not possible to turn it on and charge it at the same time.
Heats up easily
#3 Cyberdax – 14-inch portable, wireless table fan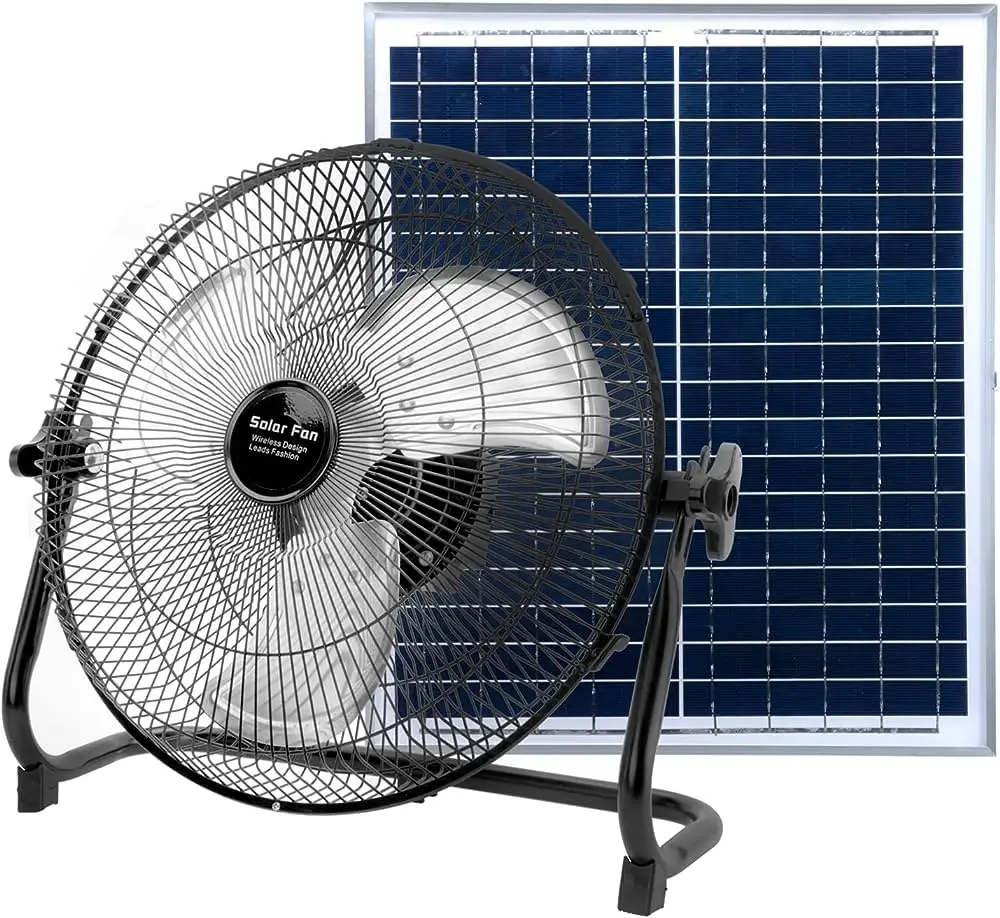 If you enjoy going camping with a big group of friends or family, it seems sensible that you would want a solar camping fan that can cool down several people at once. The CYBERDAX wireless portable table fan's best asset is this.
It features a 14-inch diameter and a tilt adjustment of up to 130 degrees, making it significantly larger than other solar camping fans. The fan still boasts many of the qualities that make other solar camping fans so desirable. The USB charging connector and the several wind speeds—12 to be exact—are the greatest illustrations.
Pros
Battery life is 4 to 24 hours.
Due to the construction of an aluminum alloy, which is extremely durable.
12 different wind speeds
Cons
With increased speed, an expensive battery quickly loses charge.
Compared to other fans, it is heavier and more difficult to transport.
#4 14″ Extremist Misting Fan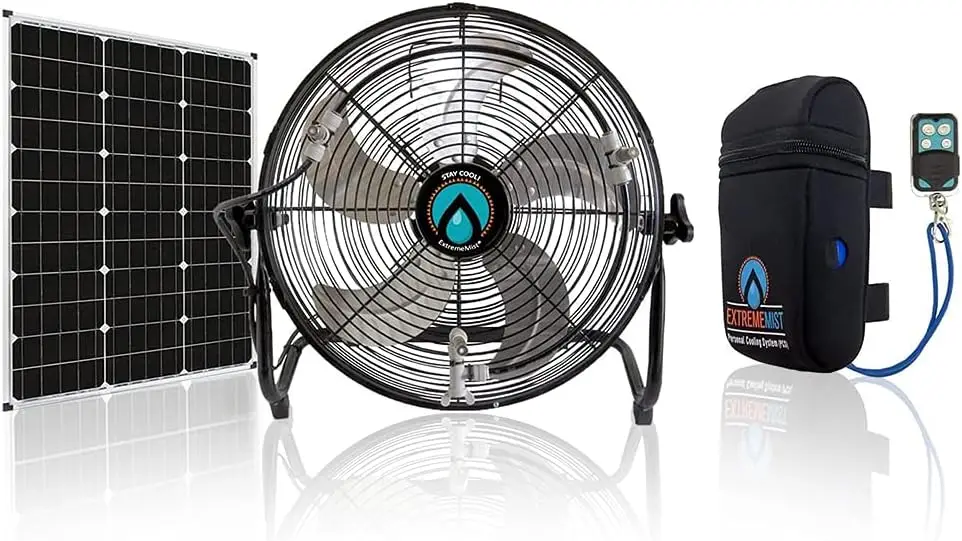 The EXTREMEMIST 14″ Misting Fan with 3 Mister Nozzles and a 20W Solar Panel is ideal for outdoor use, camping, and tailgating.
Those campers with larger budgets might choose to treat themselves to Extremist misting fan. This solar-powered camping fan features three mist nozzles that spray refreshing water in addition to its twelve variable fan speeds.
Simply connect the water line to a cooler, bucket, jug, or water bottle to get started. The fan's line can be unplugged and set up to increase the shade provided by an umbrella, canopy, awning, etc. Charge other gadgets using the USB port.
Get this fan to feel comfortable, pampered, and cool, whether you're glamping, camping, or just lounging on your own lawn.
Pros
Three nozzles release cold mist into the air.
5 to 45 hours, depending on the battery.
16 feet long is the misting line.
The feed line is four feet long.
 Cons
High fan speeds quickly drain the battery.
It will be quite expensive and probably run out of water before the battery dies.
#5 Shuangjishan Camping Fan
For campers looking for comfort and convenience during their outdoor experiences, the "Shuangjishan Camping Fan" is the best option. This adaptable gadget combines the features of a tent fan, a strong lantern, and a desk fan, making it a necessary item for usage when camping, at home, at work, or even in your car or RV.
Need a cheap solar camping fan? The Shuangjishan camping fan might be ideal for you. It has a hook so you can hang it from the top of your RV or tent, four wind speeds, three LED light panels, and a USB connector for charging other equipment.
The brushless motor, which makes the blades turn so softly that you won't even notice them, is what really distinguishes it from other solar camping fans. You don't need to make noise to stay comfortable!
Pros
Inexpensive
Reduced noise from brushless motor
Lightweight and portable
Cons
The typical battery life is only 6 to 14 hours.
Not enduring
#6 Reenuo – 4400mAh Rechargeable Camping Fan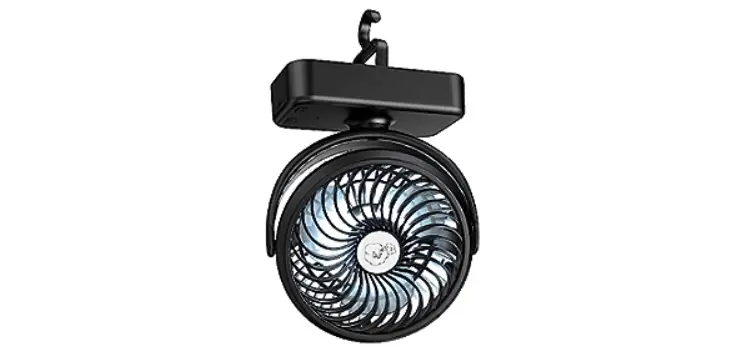 The Reenuo 4400mAh camping fan with integrated LED lights is the first solar-powered rechargeable fan that I advise looking into. I feel comfortable recommending this solar-powered fan for camping because it has over 250 reviews, almost all of which are positive.
If you need something for when you're sleeping, it's also ideal for hanging in your tent or trailer. It can serve as a nightlight if necessary and contains two batteries to keep it charged.
If you don't know what mAh means, it is a measurement unit that is widely used to estimate the capacity of batteries. It implies that the battery will last longer the larger the mAh. The fan consumes roughly 100 milliamps when it is operating. Thus, a full charge will last slightly over 40 hours.
Pros:
Solar-Powered Rechargeable Feature
Integrated LED Lights
Cons:
Limited Battery Capacity
Long Charging Time
#7 Portable Amacool Camping Fan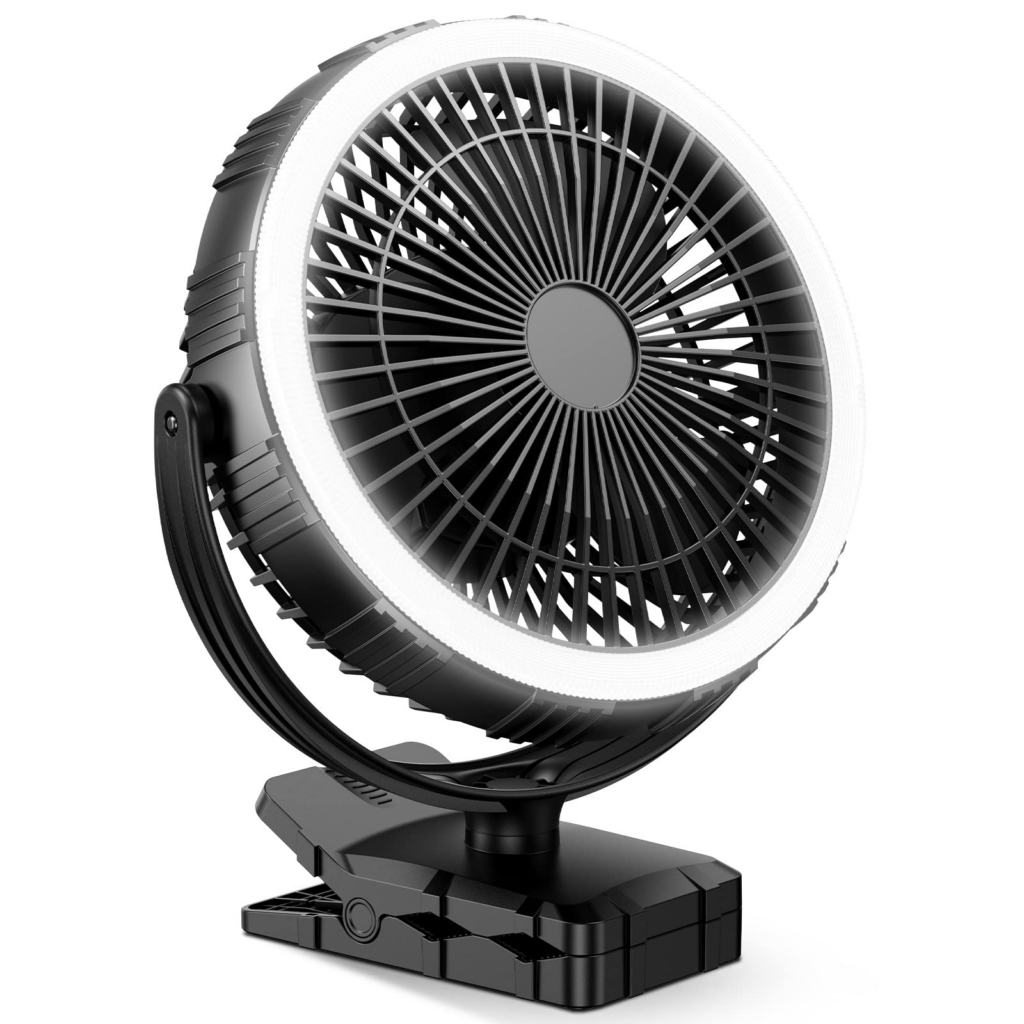 The Amacool portable camping fan has the same battery size as the Reenuo and is the following choice. It appears to be highly rated, with slightly over 200 reviews and an average rating of roughly 4.8 stars. You can't go wrong with either of these solar power fans for camping if you liked what you saw in the Reemuo because it appears to be very comparable to specs.
Pros
Dual Functionality – LED Lantern and Fan
Highly Rated and Well-Reviewed
Cons
Battery-Operated with Limited Runtime: On longer camping trips, battery capacity and usage may limit runtime.
The Amacool fan, like many compact camping fans, has a limited cooling range.
How to Choose the Best Camping Solar Fans
The solar panel size, battery, features, portability, and affordability are the five most crucial considerations when choosing the best solar camping fan for your needs.
Size of Solar Panel
Let's face it, you want to charge your solar-powered fan in the sun. However, for these gadgets to operate at a fair speed, there must be a lot of sunlight.
Many built-in panels are often unimpressive and can only charge a battery to a pitiful level because they are only 4 inches or smaller. If you want to use the device only in sunshine, seek 10W or more panels.
Battery
The battery is another element that affects the quality of fans. These gadgets must have enough storage to function for whatever long you intend to use them.
Larger fans demand more electricity, which is related to the solar panel size. A huge panel and a battery that can hold the necessary amount of electricity are both necessary for a robust gadget.
Features
Many solar-powered fans offer multiple functions. These products often come with an LED lamp and a USB port for charging handheld electronics.
Additionally, you can come across a solar fan with two, three, or even more charging options. Regarding various features, it's critical to understand that a device performs each task less effectively the more things it can do.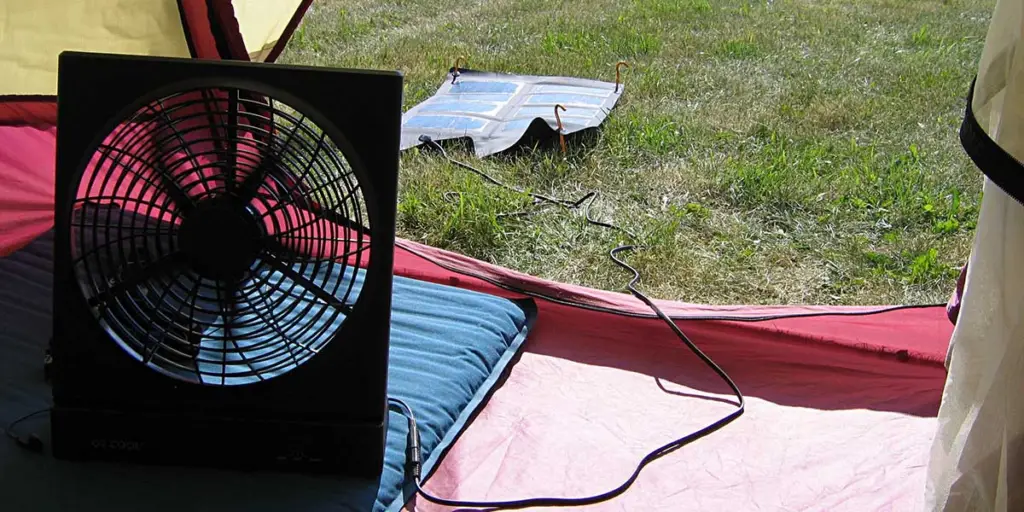 Portability
A solar fan's portability depends on two things. In order to reduce weight, producers often select either plastic or metal frames. Some devices become less robust due to this choice, but it also makes them easier to carry.
In addition, the size of the panel may limit how easily a fan travels. Manufacturers typically separate the two after solar panels begin to outgrow the fan. You must, therefore, transport both parts and any connecting cable. You might feel less inclined to pack the device if it doesn't have a carrying case.
Price
Considering all the elements, it is not surprising that solar-powered fans have a wide price range. The normal pricing range for these gadgets is $20 or less for the most basic models; for the more potent ones, it's $100 or more. By limiting functionality, you can lower the overall cost depending on the features you want.
Knowledge Required Before Purchasing a Solar Camping Fan
The greatest solar camping fans would only use sunlight in an ideal world. But since this isn't a perfect world, you'll probably need to charge your gadget before using it outside. These panels are intended to maintain the fans' fluid levels or offer backup power if necessary.
Remembering this while searching for solar fans will help you have the right expectations. But your solar panel must be oriented correctly if you want to get the most out of it.
Ensure they receive complete sunlight exposure because these devices lose efficacy when placed in cloud cover or shade. Additionally, turning the panel so it faces the sun straight will increase the amount of solar energy it produces.
FAQs
How valuable are solar fans?
Solar-powered fans provide a refreshing air outside. They assist in maintaining a comfortable temperature in your area, though you'll need a large enough solar panel to charge the gadget.
How many hours do solar fans run?
Solar fans may run for up to 24 hours before needing to be recharged when equipped with a sizable battery bank.